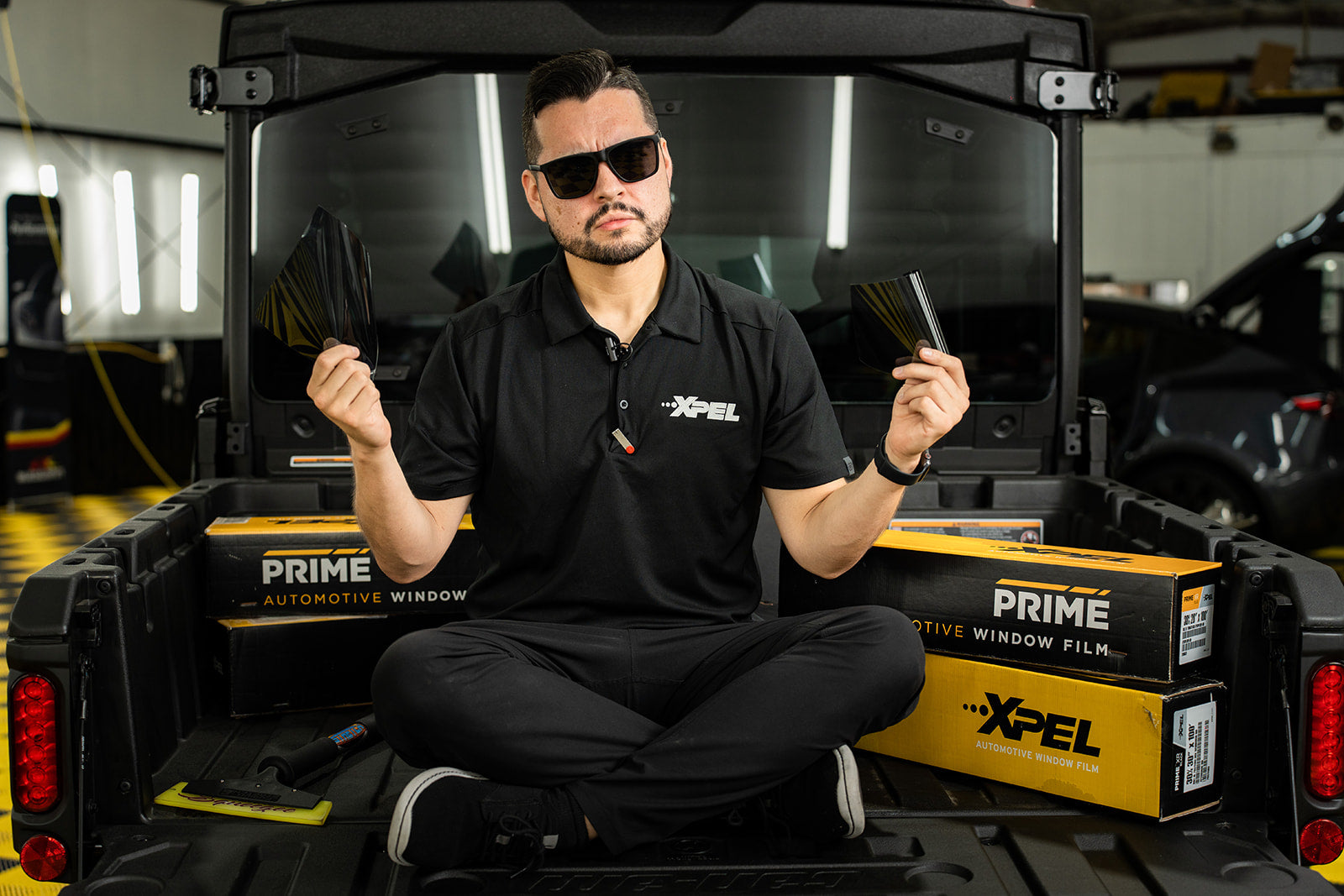 Texas Tint Masters, based in Houston, TX, is a renowned automotive window tinting company offering Computer Cut XPEL PRIME Ceramic Window tinting, Heat Test Reports and a Lifetime Warranty on all installations, we ensure top quality and satisfaction for our customers. We guarantee it — SQUEEGEE THAT!
What's the best type of tint for me?
XPEL XR BLACK Ceramic Tint is known for its ability to block up to 76% of infrared (IR) heat backed by XPEL's Lifetime Warranty.
XR PLUS NANO CERAMIC TINT
XPEL XR PLUS is the WORLD'S TOP performing nano Ceramic tint known for its ability to block up to 96% of infrared (IR) heat backed by XPEL's Lifetime Warranty.
XR Black tests at 76% of IR Heat Protection while XR PLUS performs at 96% IR Heat Rejection for a difference of about 20% in protection.

Both types of window tint are color stable to resist fading and color change, coated with aggressive adhesive glue to protect against bubbling, and come with a Lifetime Warranty!
Performance Difference:
Ceramic tint is definitely worth considering when it comes to window film options. One of the main advantages of ceramic tint is its exceptional ability to block large amounts of heat & UV Light. This is crucial for protecting both you and your vehicle's interior from the damaging effects of prolonged sun exposure. Ceramic tint can significantly reduce the fading and deterioration of your car's upholstery, dashboard, and other surfaces.
Durability Difference:
Ceramic tint is known for its durability and longevity. It's color stable construction resists fading and discoloration over time, ensuring that your tinted windows maintain their aesthetic appeal. The advanced technology used in ceramic tint also minimizes the risk of bubbling or peeling, making it a reliable long-term investment.
Okay, you have seen this on Tik-Tok and we have heard it a thousand times so here it is:
Ceramic Tint's main advantage to regular tint is heat rejection performance. However, a "tinteresting" trend has been taking place on social media.
What about the tint that's the dark on the outside but clear on the inside?
Yep, we have seen it but here's the answer: The effect you see on video is the camera lens adjusting lighting and exposure to inside and outside lights. When the camera is outside of car, it is adjusted to outdoor lighting from the sun. When the camera transfers to the inside, it readjusts making everything look brighter than it really is.
Is Ceramic Tint have privacy tint?
Yes it does! The darker the film on the glass the more privacy you will have.
Well, here's a can of "tintified" worms to open up. Let's start by defining "best".
In our professional opinion, "best" is referred to an OVERALL window film that is maximized in (3) segments: Performance, Durability, Color. So for this we have to nominate — XPEL XR PLUS NANO CERAMIC TINT.
Performance: XPEL XR PLUS NANO CERAMIC TINT has high heat performance numbers testing at 96% IR Heat and over 98% after it is installed at your glass.
Durability: XPEL XR PLUS NANO CERAMIC TINT will be color stable to resist fading & color changing for the duration of its life.
Color: XPEL XR PLUS NANO CERAMIC TINT has neutral attractive colors & tones that has been widely praised by its buyers — just read our reviews online!
When weighing in all of these options, this is why we choose XPEL PRIME Window Films because XPEL has top performance numbers with a wide use across the world and the reviews to back it.
Depending on the ceramic window tint package it can arrange about 1 hour - 4 hours.
GREAT QUESTION — HEAT TEST REPORTS.
Texas Tint Masters™ verifies all ceramic window tinting installations with personalized heat test reports we include — giving you the EXACT testing numbers on your actual glass.
This is important because it is extremely difficult to determine a true ceramic window tint just by its visual appearance.
A proper test requires infrared lamps, BTU & IR Meters and knowledge of operating the equipment.
At Texas Tint Masters™, you can rest assured you are getting a proper ceramic tinting installation.
Texas Tint Masters is a certified XPEL Shop, we offer a wide range of XPEL products w/ computer cut window tinting service guaranteeing a precise fit, heat test reports to verify your purchases with an aftercare glass cleaner package and lifetime warranty ensuring long-term satisfaction.